Fine Farm hits 100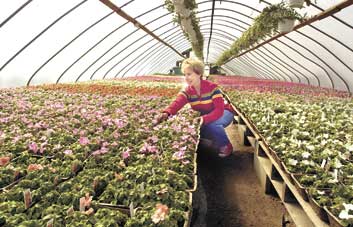 Ruth Handy works in the overflowing greenhouse that is part of her family's farm, Fine Farm, in Attleboro. (Photo by Martin Gavin)
BY JAMES A. MEROLLA / SUN CHRONICLE STAFF
ATTLEBORO -- This growing season, the Fine Farm will celebrate its 100th anniversary, 19032003.
And no matter what has risen up to temporarily divide them -- Cossacks, persecution, oceans, continents, icebergs, stumps, boulders, bad weather, divorces, death, even the town line which runs smack through their driveway, separating Rehoboth from Attleboro -- the land itself keeps bringing the remarkable Fine family back together.
`` This is all of my life, everything I want is here,'' said Ruth Fine Handy, 68, who grew up on and runs the farm with her husband George, and tells this Fine story:
It began in the little village of Senna, in White Russia, where Charles Fine, a scholar with aspirations of becoming a rabbi, just 16 himself, began teaching groups of children in their homes as a private tutor. He would spend six months in each home, being paid $30, plus board. It was in one of these home tutorials he met the girl who would become his wife.
Bluma was just 17. She had assumed the role and duties of mother to her three younger siblings at age eight because her mother had suffered an accident which left her totally blind. Bluma often foraged for mustard greens -- sometimes the only food available -- to feed everyone in the home.
Bluma married Charles Fine, who soon abandoned his plans to become a rabbi, turning to the kind of impoverished dairy farming barely available to Jews in Russia in the 19th Century. There, then, wealthy land owners with large herds of cows rented out the poorest cattle for $10 a year. These were harsh times.
`` In Russia, my grandfather was like Teyve the milkman in `Fiddler on the Roof,' '' said Handy. Religious persecution grew worse and the couple experienced the threat of pogroms, where the Tsar's soldiers would randomly carry out raids, plundering Jewish settlements, murdering the men of the village and often massacring women and children as well. Charles decided to make a monumental change. He would come to America to earn enough money to send for his wife and three young children, Sol, Samuel and Anne.
To read the rest of this article, see today's Living Well section in The Sun Chronicle. You'll also find an article on respiratory testing at Sturdy Memorial Hospital, a column on family law by North Attleboro lawyer Kerri Quintal, Elizabeth Bristol's Solos column, and a trend story on hookah bars being frequented by college students. All this and more.