The following is from The Fine Farm Cookbook.
FINE BEGINNINGS
Food - its cultivation and preparation - is part of my family's heritage. I grew up on a farm that has been in the family for three generations, but the heritage has earlier roots.
My grandparents were born in the little village of Senna, in White Russia, not far from Lithuania. My grandfather was a scholar who studied to become a rabbi, but fate was to route him to the harsh land of New England.
I was a farmer's granddaughter and a farmer's daughter and today I am a farmer's wife, so I know how precious time is to the working homemaker. This book is for people who like to eat well and don't think they have the time or the skill to do it at home. The only ingredients of good meals are the desire to prepare them and the fresh, wholesome ingredients themselves.
We would all like to serve appealing, delicious, nutritious meals without fussing over complicated recipes. No one wants the same fast, boring meals day in and day out. My recipes don't require years of experience or hours in the kitchen. They use common ingredients that you have on hand. They are simple but they come from a rich heritage.
In the village of Senna, my grandfather studied in Talmud schools from the age of six to sixteen. Students slept in the synagogue and went from house to house for free meals, often staying a week at each home.
At the age of sixteen, my grandfather began teaching groups of children in their homes as a private tutor. He would spend six months in each home, for which he was paid $30 plus board. It was in one of these homes that he met my grandmother. She was seventeen and had assumed the duties of mother to three younger children at the age of eight. Her mother had suffered a painful accident, and with no medical attention, had become totally blind. Her father was away during the week, seeking work to support the family and he returned home on Saturdays. Food was scarce and my grandmother had to forage for mustard greens-the only food they had at times.
After my grandparents married, my grandfather abandoned the idea of becoming a rabbi and turned to dairy farming. It was much different from dairy farming as we know it. In Russia, wealthy land owners with large herds of cows rented out the poorest cattle for $10 a year. The dairyman used the milk to process and sell butter and cheese.
These were very difficult and harsh times for Jews in Russia. Religious persecution was growing worse and the threat of pogroms became constant. (Pogroms were random, brutal raids by the Tsar's soldiers, who would plunder Jewish settlements, murder the men of the village and often massacre the women and children as well.) My grandfather decided to come to America and try to earn enough money to send for his wife and three young children, Sol, Samuel, and Anne.
He arrived in New York at the turn of the century and found a job as a house painter for $3 a week. He lived on whatever stale bread, fruit and fish he could buy at three cents per pound. After a year he had enough to bring his family to America.
My grandmother, my aunt, and two uncles left Russia on a cattle boat in steerage. For seven weeks they lived in unsanitary, sickening conditions. The ship encountered icebergs and had to put into Montreal. From Montreal, the family was sent by train to New York. With little money, no knowledge of English, and with three small children, my grandmother faced the bewildering problem of trying to find her husband in a huge city in a strange land. A cab driver wanted $5 to help her and when he found she had only 30 cents, threw them out. Finally an ice man, to whom she gave the 30 cents, showed her where her husband lived.
With the family reunited in New York, my grandfather opened a little candy store and later a grocery store on the Lower East Side. He continued to work as a painter while my grandmother tended to the store and the children.
An unfortunate accident in 1903 changed the course of their lives. As my grandfather was boarding an open street car with his painter's tools, the conductor started the trolley, throwing him to the street. His left hand was crushed under the wheels of a passing cart and the index finger and part of the ring finger had to be amputated. He was no longer able to hold a paintbrush so he had to give up his trade. For this injury the railroad insurance company paid him $800 three years after the accident. The Jewish Agricultural Society of New York located a farm in Attleboro, Massachusetts and the family-there were five children now-moved to their home, sight unseen. Fate, once again, had taken my grandfather back to the land.
The farm was an uninviting place. Those with less determination and courage would have shrunk from the task ahead. Of the 65 acres, only five could be cultivated and they were covered with rocks and stumps. The house had once been an inn, known locally as the Old Tory House. It was well over 200 years old, built of hand-hewn timbers, held together with wooden pegs. It was very dilapidated. Only two rooms were habitable. All the other buildings were unusable. While making the house fit for habitation, one of my uncles discovered some letters in the attic. When he showed his mother the letters, signed by a man named George Washington, my grandmother, who was still unable to read or speak English, threw them out, saying, "It is not nice to read other people's mail."
After the house was made livable for their large family (two more children-My father Hyman and aunt Mary would be born there), the next task facing my grandparents was to clear the land of stumps and stones. This was accomplished by hard labor and horses. The stones were carted five miles to the city, where they were crushed and used for road construction. The trip took all day and my grandparents were paid 29 cents a load. Gradually, fences were built, cows were purchased and my grandparents were once again in the dairy business. They started out with two cows, one of which choked to death on an apple. Eventually they had 35 of the best purebred registered Jersey cows in the area and for 15 years my grandfather got up at 1:00 a.m. to deliver milk to his customers.
One incident showed the indomitable courage of these settlers. A fire swept the land, threatening the house. It was saved only by spreading wet blankets on the roof. All the wooden fences were destroyed and the cows could wander off.
As soon as the blackened pastures were cooled, my grandparents, each with a roll of barbed wire on a shoulder, started to build new fences. They returned to the house with their hands and arms tom by the barbed wire and faces blackened by the charcoal, startling their children, who hardly recognized them. Their mutual helpfulness and devotion to each other prevailed throughout their lives together.
My grandparents spent the next 50 years developing the land into one of the largest working farms in New England at that time. Every year one son would have to drop out of school to work on the farm, returning the next fall. During World War I it became difficult to hire help. My father and uncles became allergic to cattle and were unable to care for the herd. The cows were sold and the family turned to poultry. One by one my uncles and aunts left the homestead to pursue other careers. The five boys went to college. Uncle Ben fulfilled my grandfather's dream of a scholarly life. Unlike his father, Ben planned first to become a farmer but his studies lured him in other directions. After earning a Master's and Doctorate degree from Columbia University, he went to work for the New York Times, where he became Education Editor and won a Pulitzer Prize. He was the author of 10 books in the field of education.
My father attended Rhode Island State College, where he studied agriculture. He too became very knowledgeable in the field of education and served on the local school board for many years. He encouraged my twin sisters, June and Joan, and me to become teachers. He died at a school committee meeting. The Hyman Fine School was named for him.
Uncle Sol, who died tragically at the age of 27, was a professor at the University of Oregon. Samuel attended the University of New Hampshire and worked with my father as a market gardener until allergies forced him to give up farming. He and his wife Pearl were very active in community affairs. Aunt Pearl organized the first school hot lunch program in Attleboro and for over 50 years was cafeteria supervisor, providing hot lunches for more than 4,000 students a day. They were well known in this area for the many meals they catered and Yankee Magazine featured them as "Great Cooks of New England."
Uncle David was a lawyer and theatre owner in New York. Aunt Mary lives in Pawtucket, Rhode Island and Aunt -Anne lived in Poughkeepsie New York for many years before retiring to Florida. Though all the children scattered, except my father and Uncle Sam, they all considered the farm their home. Throughout their lives they called my grandparents every week and came home to spend their vacations on the farm. Raising, feeding and educating seven children was a monumental endeavor, but my grandmother found time to develop many recipes, utilizing the food produced on the farm.
Growing up on the Fine Farm in a three generation home, I learned that the entire family had to work long hours for the farm to thrive. Every weekend dozens of relatives would come to visit and sometimes to help. No one left without a hearty meal prepared from the farm's fresh produce, milk, meat, poultry, or fish caught in our brook. During the summer months, relatives and their entire families moved into the cottages built on the farm for them. They would congregate in the evenings and tell fascinating tales of their adventures in the old country. Whenever there was a problem, they would come to my grandmother, the matriarch of the family. She always seemed to have a solution for everyone. When there was sickness, she would gather herbs in the woods and make a healing potion.
Since my parents had no sons, my sisters and I had to work along with the hired hands in the fields. The hours were long and the work very strenuous and often tedious. Sometimes after picking the tomatoes, we would pack them for market until 2:00 a.m., only to arise and begin work again at 6:00 a.m. In August there were 60,000 ears of corn to be picked and packed in the broiling sun. When I was given a choice between the outdoor chores and keeping house and cooking all the meals, I chose the indoor tasks.
Since my mother was working in the fields alongside my father, my grandmother spent more time doing the domestic chores, including the preparation of three huge meals a day. She taught me how important food was to a household, not only for physical nourishment, but as a symbol of love, To this day, cooking for my family and friends is synonymous with love.
When I went to Brandeis University, I never dreamed that I'd be back at the old homestead as a farmer's wife. At that time, 1 couldn't wait to leave the farm. Now I appreciate the land. My husband and I have seven greenhouses, where we grow and sell our flowers and vegetable plants to the public and where we raise the vegetable seedlings for our fields. When the greenhouse season is finished I work at our vegetable stand every day, selling our fresh produce. My husband George does all the farm work single-handed. He plows, plants, hoes and harvests the crop with no help. Even with modern farm equipment, he works as hard as my grandparents did in their day.

---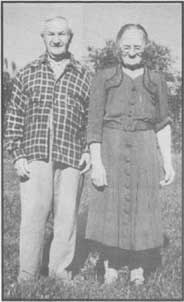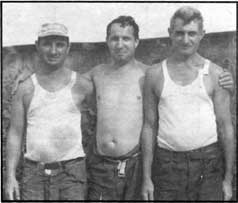 Charles and Bluma Fine


Hyman, Ben, and Sam Fine